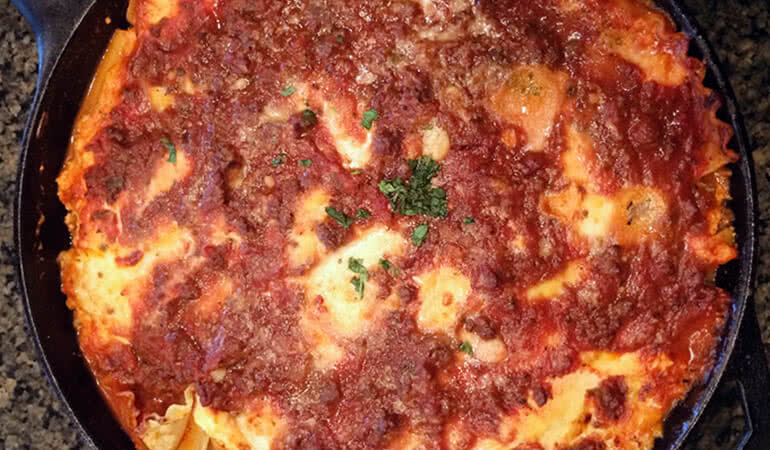 Featured Recipe
Elk Venison Skillet Lasagna Recipe
This Elk Venison Skillet Lasagna Recipe is classic comfort food with rich tomato sauce, thick lasagna noodles and a whole lot of cheese.
You can substitute ground deer or antelope in this Elk Venison Skillet Lasagna Recipe.
Serves: 6
Prep time: 20 minutes
Cook time: 40 minutes
Ingredients:
½ package lasagna noodles
1 pound ground elk meat
1 medium sweet onion, chopped
2 cloves garlic, minced
2 tablespoons olive oil
3 cups tomato sauce
32 ounces ricotta cheese
1 cup Parmesan cheese
8 ounces fresh mozzarella, sliced
2 eggs
Tools:
12- to 14-inch cast-iron skillet
Directions:
Preheat oven to 400 degrees.
Break lasagna noodles in half and cook following instructions on package. I broke my noodles in half to fit better in my round cast iron skillet. I know the noodles are hard to make a clean break but don't worry about that. No one will ever know.
Heat a cast-iron skillet on medium-high. Add olive oil and sauté onion and garlic. Add ground elk and cook until done. Remove elk meat from skillet and set aside in a bowl. Add 3 cups of your favorite tomato sauce to meat mixture and stir.
In a separate bowl add Ricotta cheese and ¾ cup Parmesan cheese. Add two eggs to cheese and stir making sure that the eggs are mixed in well with the cheese mixture.
Add a thin layer of meat sauce to the bottom of your skillet. Add a layer of lasagna noodles. Add a layer of the cheese mixture and then add a few slices of fresh Mozzarella cheese. Repeat this layering process until all ingredients are gone.
With a large piece of tinfoil cover the top of your lasagna loosely. Bake in oven for 30 minutes. Remove the tinfoil and add the remaining Parmesan cheese. Continue to bake for 10 more minutes. Your lasagna should be bubbly, and the cheese should be fully melted. Remove from oven and let sit for 10 minutes.
Remove from oven and let rest for 10 minutes.
https://www.westernfoods.com/wp-content/uploads/2020/09/elk-venison-skillet-lasagna-recipe-770x450.jpg
450
770
Jesica
https://www.westernfoods.com/wp-content/uploads/2020/09/header-logo-white.svg
Jesica
2020-09-29 16:52:04
2021-03-01 09:50:55
Elk Venison Skillet Lasagna Recipe